Rafting Trips in Ocoee
Ocoee Tennessee is the best place for you next vacation. Also, you can hike, fish, camp, and it is famous for the white-water rafting. The middle section includes 5 miles of rafting in the water and upper section, called Olympic one, that is up to 10 miles. Rapids are from level 4 to 1.
It is located almost 100 miles from Atlanta Georgia 2 hours derive from 75 then going on 411 and from Chattanooga TN it is around 42 miles. It has three dams and there under control by TVA.

The rapids have names and I will describe just few of them like Grumpy, Gonzo Shoals, Table saw where the whole river is going in one tinny section and the most exciting and also dangerous rapid following by Diamond Splitter and finishing with the Power house.
Latest News
"The Reporter from Ocoee with Love" is award winner by Experimental Film Festival Barcelona
Read more >>
Official Selection
"The Reporter from Ocoee with Love" was nominated as Official Selection by Western Canadian International Film Festival
Read more >>
Finalist, Best Experimental film
Art Film Awards nominated "The Reporter from Ocoee with Love" as Finalist in category best Experimental film
Read more >>
Finalist, Best Experimental film
Bluez Dolphins International Festival nominated "The Reporter from Ocoee with Love" as Finalist in category best Experimental film
Read more >>
Braaking Newz
Braaking Newz movie will make you laugh, it has a unique style of comedy. Peter is prolific director and writer and his style of comedy is sardonic and insightful, and a unique blend of dry humor and wackiness. The movie obvious comparison is with Borat Subsequent Moviefilm.
His directing style seems designed to keep the audience off kilter, with long pauses where we wouldn't expect them, and unusual cuts between scenes. Shaina McLawrence and Moli Hall, who play Lorra and Anna respectively, do a great job as anchors. A lot of their banter seems completely natural and, one suspects, may even have been partly improvised.

The film has been making the rounds of film festivals all over the world, and has been gaining recognition. Peter Boiadzhieff won Best Supporting Actor for the film, by Golden State Film Festival, Los Angeles on March 2021.
Latest News
Best Comedy Film, Award Winner among 1060 films, December 2021 by Gully International Film Festival, Bihar Patna, India
Read more >>
Amazon Video OnDemand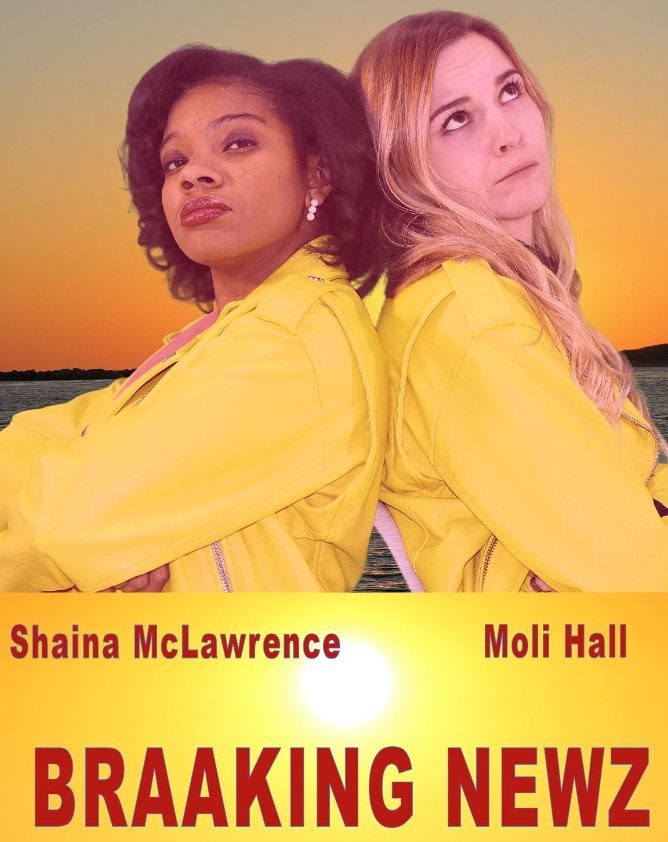 Watch Now
The Secret Project 53
A secret experiment of how to manipulate people using a love letter, called Rokamboll. It is the perfect weapon, those secret experiments went out of control.
The love is the perfect weapon that can be used to manipulate the people and Rokamboll was activated. Finally, Rebekka the wife realized that the perfect weapon is her husband Bruce that turn out to have a secret life.

Who is Rokamboll and what it is Rokamboll? Nobody knew till now. Bruce wrote the love letter long time ago. Is he the secret project Rokamboll? Watch the video to find out.
I am writing to you, because I love you ...
Publication at LA Indies Magazine
I wanted to do many things, when I was young, but I can't because, that is not important, I do not want to make my story the same as others
Read more >>
Incredible Rafting Trip
It was a wonderful Sunday morning, the sun was about to show up in my yard located in the small village Marietta, the birds are singing
Read more >>
A Movie is Born
A closer look at the film community Fork Shop of how a movie is created by doing it. The Fork Shop is a community of independent film makers who strive to create amazing films by working together, helping each another. An exclusive interview with Stephen Blackmon.
The film was nominated as award winner in category Best feature comedy by Bridge Fest, Vancouver, Canada. Also, finished as finalist in monthly competition by Toronto Independent Festival of Cift Toronto, Canada.
Latest News
A Movie is Born is nominated as Quarter-Finalist by Vancouver Independent Film Festival for January 2022 issue
Read more >>
Festival Special Mention
by Gold Star Movie Awards as Best Feature Length Documentary
Read more >>
Watch OnDemand in Vimeo
Mastering the film making skills at ForkShop film school, experience the hero characters, ...
Read more >>
Interview by Florence Film Awards
I wanted to be a filmmaker since early age when my grandmother bought me a "Smena ..."
Read more >>
Text Message for Employment
Text Message for Employment is a funny comedy by Peter Boiadzhieff when he explains his irony of getting a job via text message.
This is Peter Boiadzhieff from CAI ?
Just don't move, stay where you are, I'm coming to get you. and I am watching you. We have excellent job for you! Are you ready for change?
Read more >>
The Host Draft Script
Wayne: Who are you ? Peter: You best friend, Peter, Wayne: Peter, You monker fish I will kill you. Peter: Why ? Wayne: Because, Peter it is 3 am in the morning
Read more >>
Filming Love Drama Story
Kriss and the Banker, Kriss is entering into to the bank and asking for money. He asked for $2,000 dollars on credit card. The Banker declined his request, but approved him for a small loan of $150K. That could change his live forever.

If you believe and hope for the best you are going to be a dreamer. You are going to think that anything is possible, after all this America, dream big and believe.
Trailer Version 1
Kriss and Emma are the perfect family, well not in way how do you think, but they are happy, very happy.
Read more >>
Comedy Sketches with Peter Boiadzhieff
He is from Bulgaria and moved to Atlanta Georgia 10 years, ago. The most of the comedy is performed in The Punchline Atlanta Comedy Club at live audience at graduation night!
He is not a famous person, but he has a big dream, to be on Conan O'Brien show ... In Atlanta the dreams come true at The Punchline Atlanta's Best Comedy Club. I love America, here if you dream big anything is possible.
Nominated as Finalist
in competition by The Los Angeles Theatrical Release Competition & Awards
Read more >>
Monthly Featured Film Festival
Golden State Film Festival
The Golden State Film Festival is being administered and operated by Jon Gursha and Peter Greene. Mr. Gursha and Mr. Greene are both highly respected film industry professionals, with extensive experience discovering and helping emerging filmmaking talent achieve success at the professional level. Mr. Gursha is serving as the Festival Director, while Mr. Greene is its Program Director.

Film festivals are one of the best routes for independent filmmakers to reach wider audiences and open up new career opportunities. The Golden State Film Festival offers entrants excellent exposure and the chance to win coveted prizes, and it will also include an opening night gala ball as well as a red-carpet awards ceremony.

Los Angeles, California 90028, United States
Read more >>
Weekly Photos for Monday